Peculiar Movements /
Green Junctions

Curated by Kalina Nedelcheva

An exhibition of artworks by
Hannah Busse and Alex Gregory

March 4 — May 6, 2023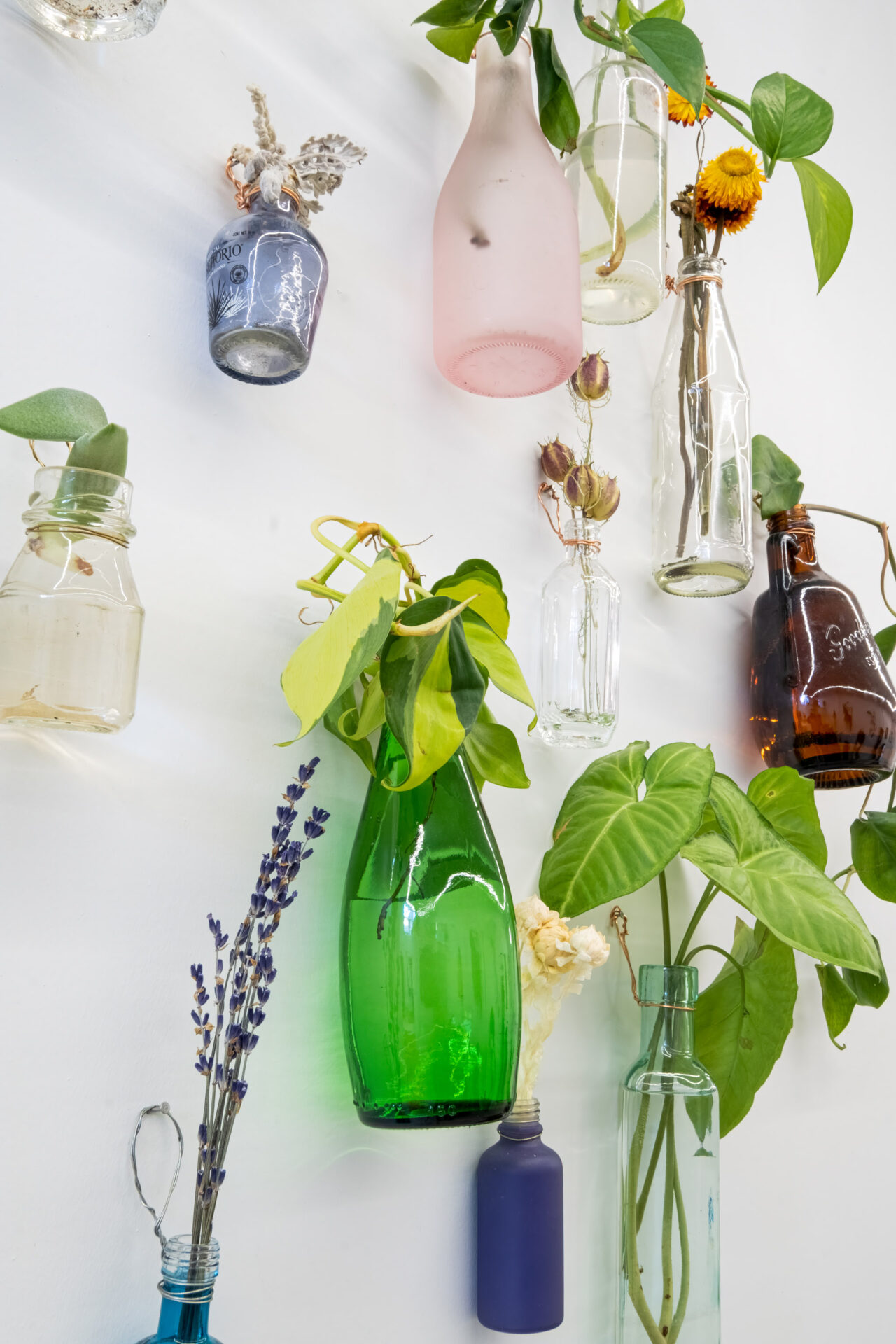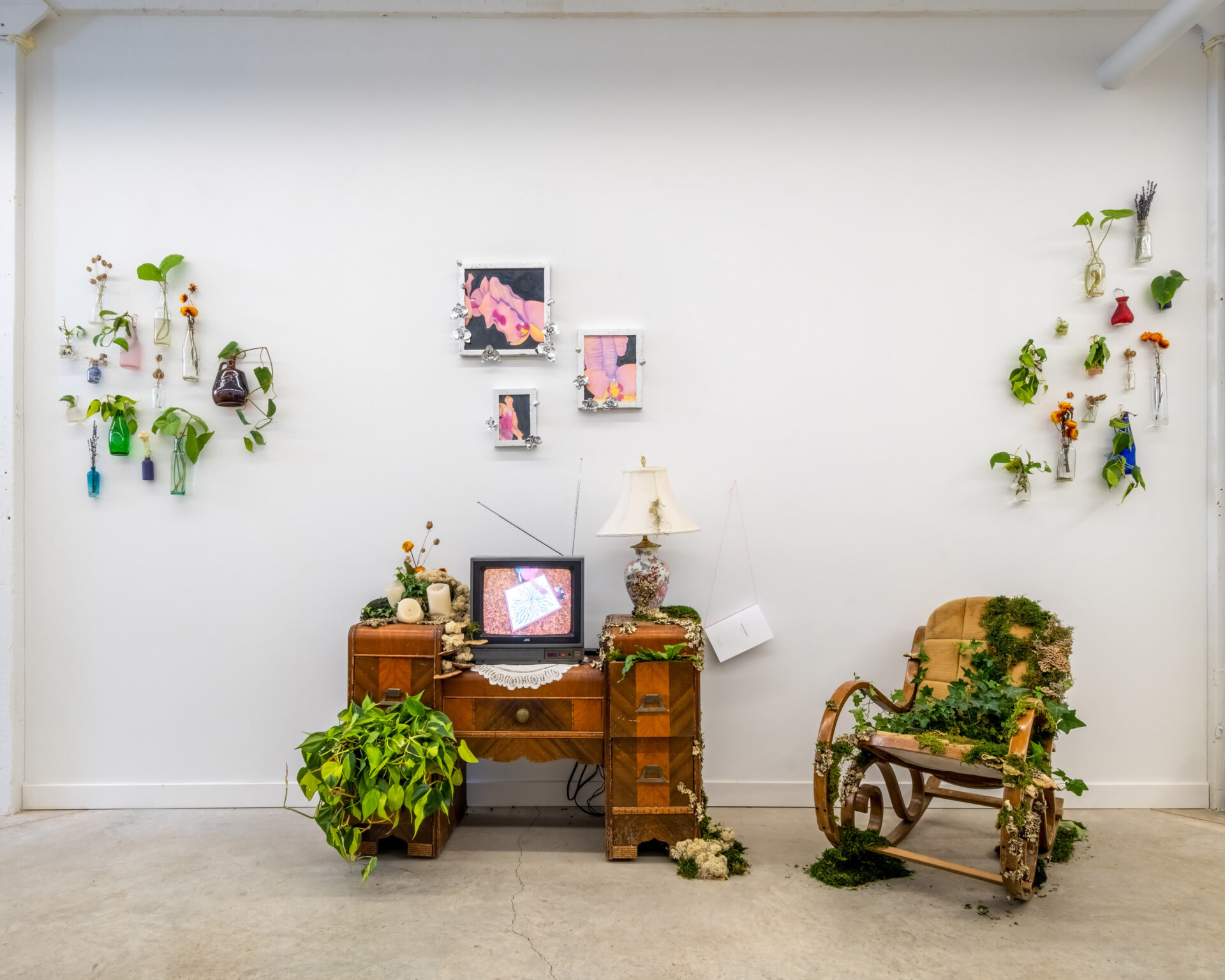 Peculiar Movements/Green Junctions is a multi-media exhibition that explores the intersection between humans, materials, and nature. Harnessing a strategic combination of sculpture-installation and video, this curatorial project spotlights the contrast between the livelihood of plant life and the static-ness of man-made materials while exploring the hidden movements that transpire in the margin of our perception of nature. Peculiar Movements/Green Junctions interrogates the idea that the human gaze "activates" nature. That is, nature is animated only when we turn our attention to it. The well-known quote: "If a tree falls in a forest and no one is around to hear it, does it make a sound?" offers a glimpse into this mentality. Asking such a question testifies to how even in our awareness of nature as animated, we still tie its liveliness to the habits and frequency of our own perception. Peculiar Movements/Green Junctions answers this question with yes, it makes a sound; its thud onto the ground is so powerful that it sends reverberations across every grass blade, every speckle of soil, every nearby insect and animal. Everything changes and it changes constantly.
Opening performance on March 4 by Roya Biazar—spacious bassist, pray sit escapist; (she/they/he/wombman)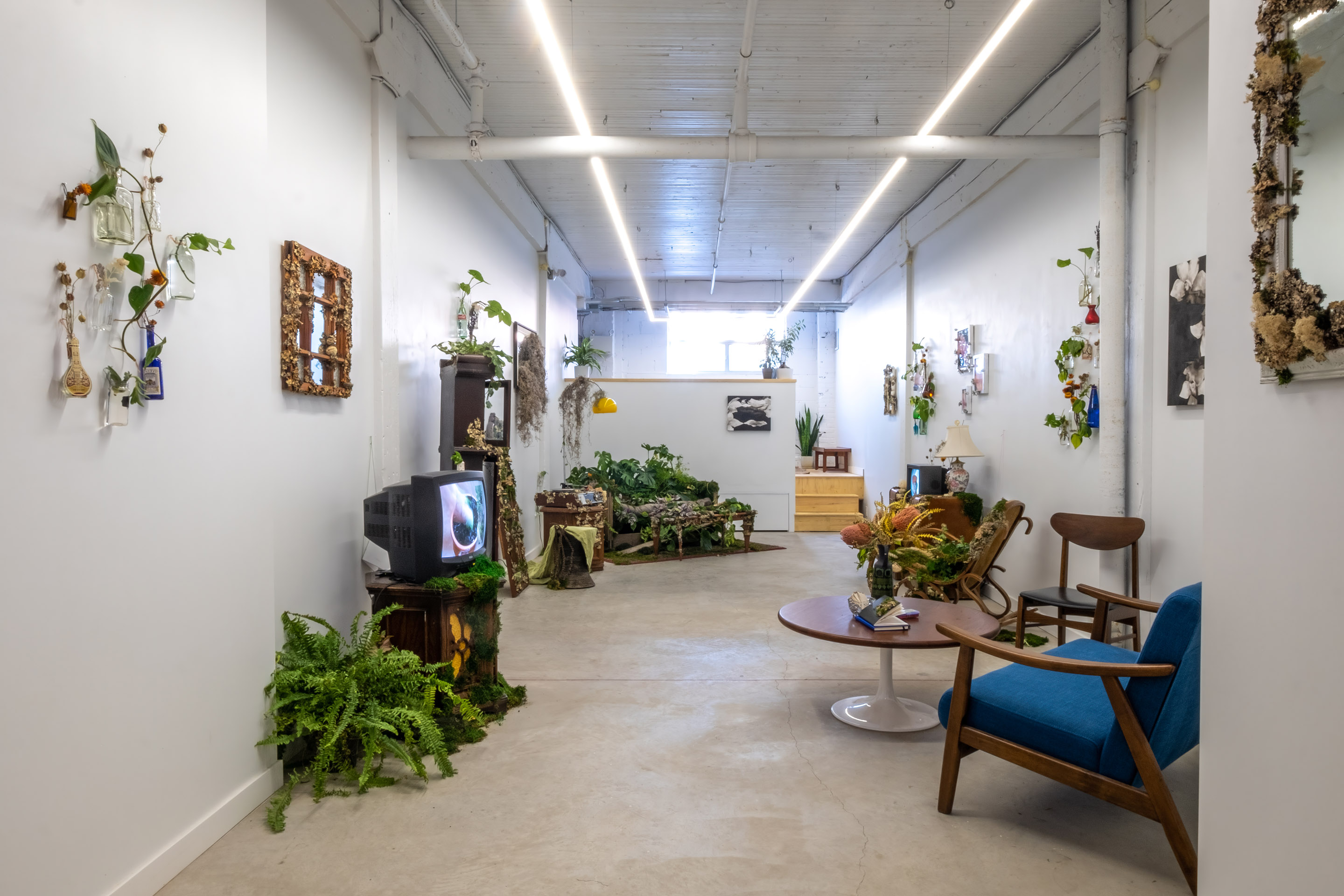 Alex Gregory — Biography
alexgregory.design/contact / Instagram @agregs
Alex Gregory is an artist-researcher whose work combines the materiality of analog techniques with digital manipulation. She has an MFA in Criticism and Curatorial Practices from OCAD University in Toronto, ON. Her thesis project Fragmented Flora consists of the curation of a digital environment that utilizes the affective qualities of physical space; the written research deconstructs the ways in which permanence and materialism are discussed and valued, as these issues intersect with the digital.
Botanical Glitches builds on the research conducted for Fragmented Flora—the material ramifications of digital space and the ways in which digital technologies mirror organic matter. This methodology mixes analog and digital ways of making to digitally render the physical manipulation of organic matter, representing the globalist / capitalist dependence on the digital. Utilizing digital techniques to inform a traditional medium demonstrates that time is not linear—the past and future inform the present. As a fragile commodity (that is frequently shipped across the global) Alex's floral subjects are inseparable from capitalism (specifically the effects of capitalism on agricultural labourers and the environment), and their presentation and dissemination is intrinsically linked to the digital realm.
Emotional Garden explores the human desire to act upon nature by elaborating on the importance of care, tenderness, cycles, and follow-through by planting dahlia bulbs. Seeds do not need humans to be planted; they will spread and grow as they have for millennia. Humans need to plant seeds to cultivate food, flowers are not planted out of necessity it's a deliberate act of environmental control. The second performance, Emotional Garden ii, focuses on sanctuary, sites of renewal, and the places we return to (not nostalgia but where we choose to reside). Through the act of planting dahlia tubers, the first video focuses on nourishment, manifestation, and the body. Dahlia tubers cannot freeze and need to be removed from the soil in the fall.
She graduated from The Pacific Northwest College of Art (PNCA) in Portland, OR, with a BFA in Communication Design. Her design work has been featured in She Shreds Magazine, Bitch Media and SAD Mag. Alex's graphic design and curatorial practices have taught her how to visually guide a person through a conceptual premise. Both disciplines are extremely spatial (in digital and physical applications), therefore she is able to adapt projects to virtual and corporeal space.
Alex currently works at MOCA Toronto as a Curatorial & Production Coordinator. At MOCA, she worked closely with Dean Baldwin Lew to design the petite publication Mixed Drinks . Over 50 artists submitted a drink recipe for the publication, Mixed Drinks was developed in response to untitled 2013 (thomas demand's here) by Rirkrit Tiravanija.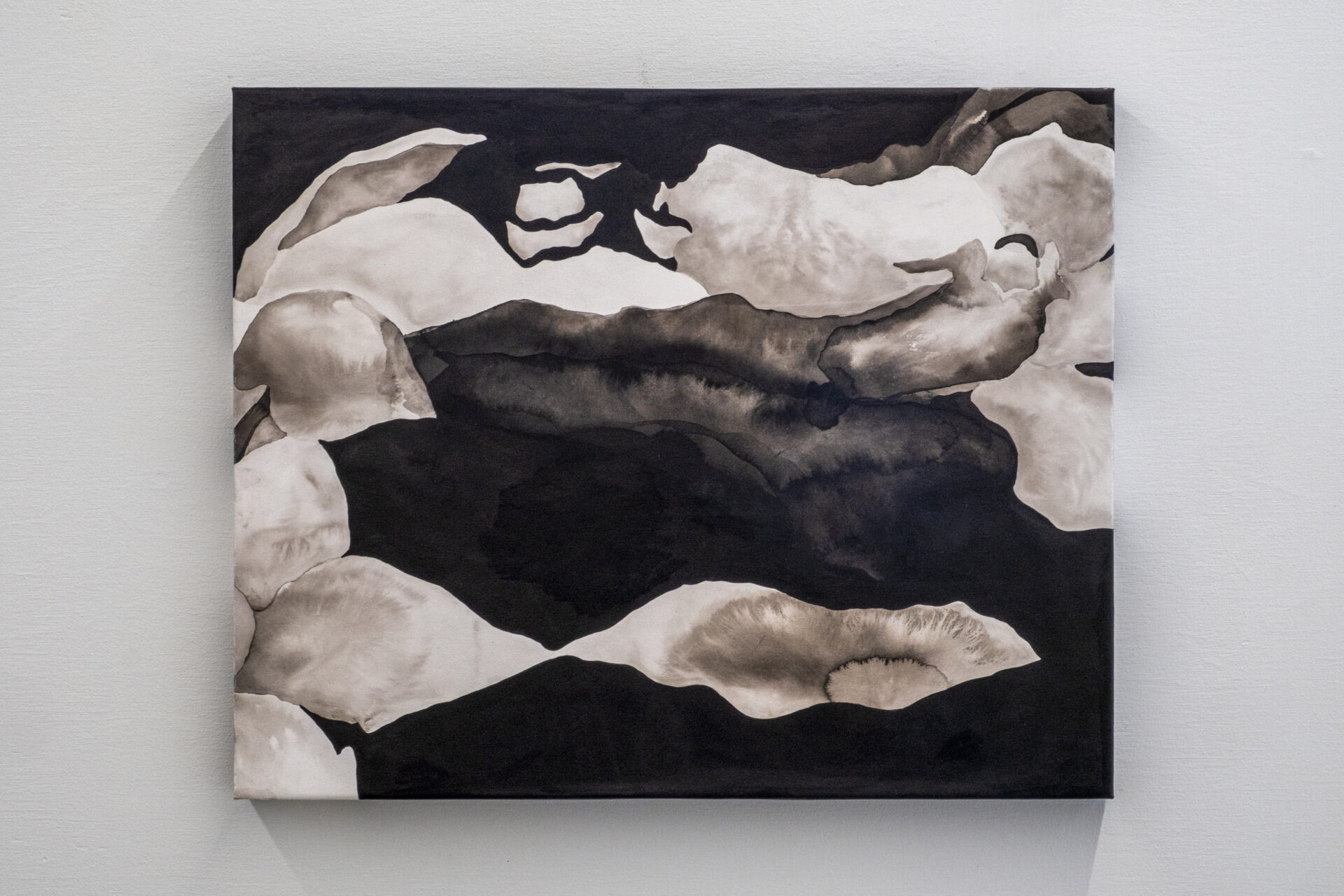 Kalina Nedelcheva — Biography
e-portfolio / Instagram @gloomdarling
Kalina Nedelcheva (she/they) is a multi-media artist-researcher, illustrator, emerging curator, and musician, based in Toronto, Canada. With a medal-winning MFA thesis in Criticism & Curatorial Practice from OCAD University, she explores the ways in which human consciousness engages in processes of meaning-making. With a passion for writing, film, and experimental mapping as mediums for theoretical storytelling, she channels potential of alogical language, chaos, and montage to challenge dominant ideological practices. Her experimental shorts have been screened by Trinity Square Video, OCAD SU Spring Festival, Toronto Arthouse Film Festival, and more. Kalina's writing has appeared in publications such as Peripheral Review, Sidedoor Magazine, The Senses & Society Journal and she was the runner-up for C Magazine's New Critics Award. As an emerging curator, Kalina has headed projects like "Archives of Space," "Peculiar Movements/Green Junctions," as well as ongoing collaborative endeavors such as "DEN and "Movement/ Nature: Guided Exercises by Artists" at the AGO.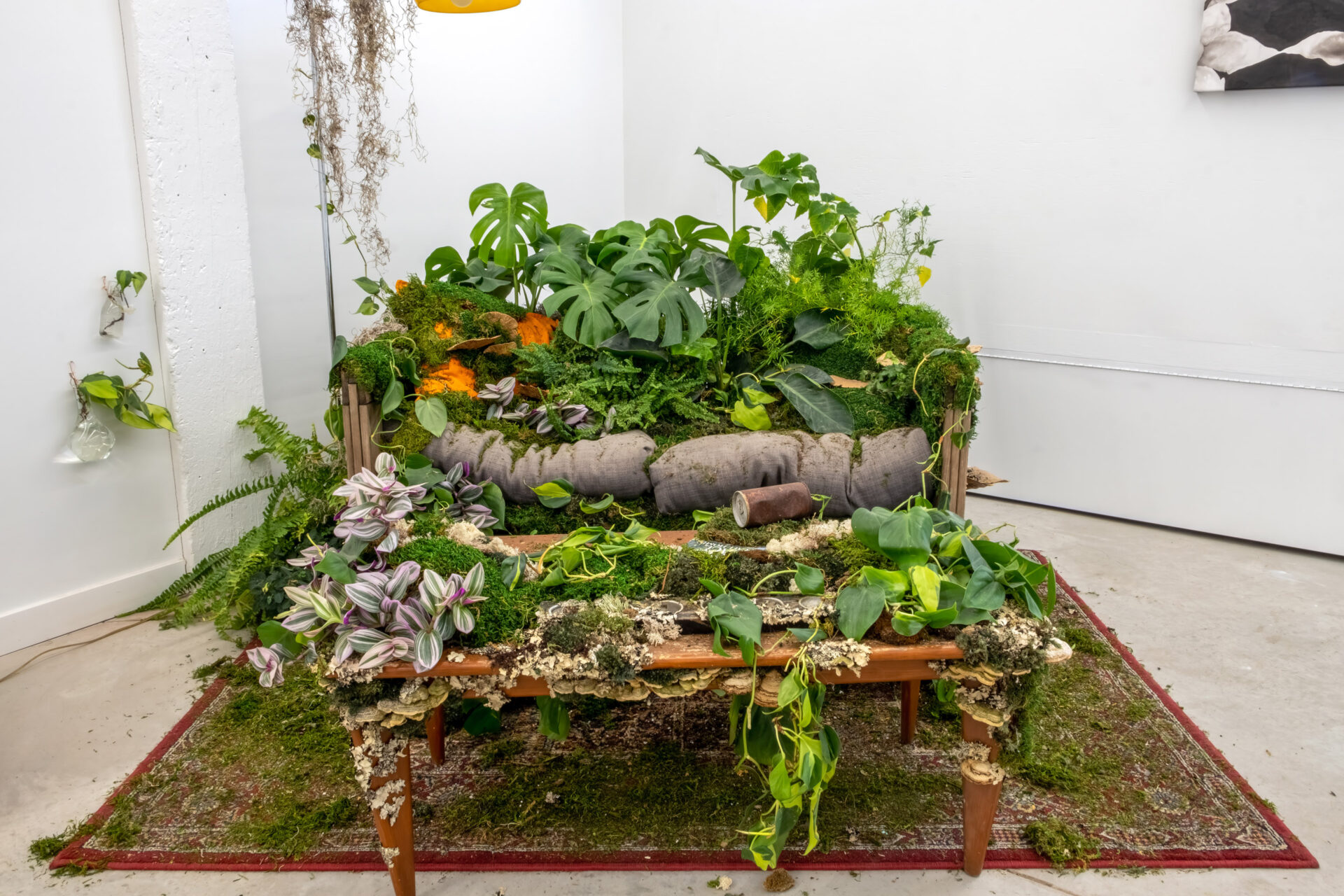 Hannah Busse — Biography
hannahjbusse.com / Instagram @hannahjbusse
Hannah Busse is a Toronto-based artist who has an ecology-informed and eco- conscious artistic practice. She has a BFA in Sculpture and Installation from OCAD University in Toronto, ON. Her work as an artist draws inspiration from nature and knowledge gathered from working as a florist and plant specialist. Hannah explores her love for nature and she positions her work as encouragement for environmental activism and change. Since the beginning, Hannah's practice has engaged with themes of ecology, humans' impact on the environment, and the need to reduce, reuse and recycle. When developing her installations, Hannah uses found, donated, reclaimed and repurposed materials along with natural components. She aims to encourage in-depth reflections and discussions about personal consumption and environmental change.
As an artist, Hannah embraces the understanding that nature has its own intrinsic patterns that govern it—from its conception to its growth and articulation. Nature's internal guidance reaches beyond our knowledge and control. When we engage with, use, or take this living material, we often interfere with the process of growth to benefit our immediate way of living. We may require living material for the design of furniture, food, clothing, or shelter, for example. We create things to bond and hold nature in a specific state and try to stop it from behaving the only way it knows how. We act as if we have agency over nature and Hannah ran with the premise of this exhibition to explore the forfeiture of such agency. The Living Room installation acts as a junction between the natural material given and the unnatural environment. Hannah collaborates with the material on the aesthetic of the installation. Once the work is set up, the artists allows the living materials to exercise their agency, allowing the room to be as vital as possible. The public is invited to interact with the work and play a part in the The Living Room's development or deconstruction.